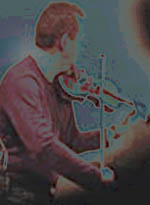 Michael Gustorff is well known in Europe and a highly respected performer. He is considered one of the finest jazz violinists in contemporary jazz and has often been featured as a guest soloist with major bands and orchestras, among them the radio big bands of Berlin and Frankfurt, the Millennium Jazz Orchestra, Dick de Graaf Septet and Trio Nuevo.
(Lee Prosser, jazzreview.com)
Michael has worked together with famous musicians such as Jiggs Whigham, John Taylor, Ted Nash, John Engels, just to name a few... and played festivals and clubs all over Europe, Canada and Asia.
He performs swing and bebop with equal ease, as well as modern jazz. With his latest project 'The GUST' Michael Gustorff is melting jazz improvisation with modern keyboard sound and up to date beats. Michael can be heard on numerous CDs.
More information: take a look at bio on this side
Bio
Michael Gustorff, born in 1958 in Leverkusen (Germany)
- started taking violin lessons at the age of 11
- at age 15, began improvising on the violin with bands in different styles such as rock, Irish folk, country music, bluegrass, western swing and finally all kinds of jazz music from swing to improvised music
- studied classical music at the Musikhochschule Duisburg (Germany) and jazz at the conservatories in Amsterdam and Arnhem (The Netherlands)
- received his degree "cum laude" in 1988
- won 1st prize at the international jazz competition in Breda
- played Hot Jazz & Swing with the Rigo Winterstein Swingtett, Vania, Dany Weiss Ensemble, Kussi Weiss, Lulu Reinhardt, Ottorino Galli
- toured with a great variety of bands such as the Michael Gustorff Quartet, European Danzon Orchestra, Panhandle Swing, Ro Gebhardt Band, Dick de Graaf Septet, Trio Nuevo, 'The GUST'... in Germany, Benelux, Ireland, Denmark, Norway, Sweden, Finland, Latvia, Lithuania, Austria, Switzerland, France, Spain, Canada, India, Korea and Vietnam
- performed at the North Sea Jazz Festival The Hague/Rotterdam (more than 10 concerts with different bands), the Meervaart Jazz Festival Amsterdam, Deutsches Jazz Festival Frankfurt, Leverkusener Jazztage and the jazz festivals in Montreal, Toronto, Quebec, Victoria, Vancoucer, Saskatoon, Imatra, Järvenpää, Dublin, Viersen, Mannheim, Braunschweig, Düsseldorf, Worms, Hildesheim, Breda, Amersfoort, Den Bosch, Eindhoven, Enschede, Hoofddorp
- worked as a guest soloist with the Radio Big Band Frankfurt Radio Big Band Berlin, "Big Stuff" Big Band & "Strings Ahead", the Millennium Jazz Orchestra, Guus Tangelder Big Band...
- participated in special projects with John Taylor, Frank Gratkowski, Dieter Manderscheid, Keith Copeland, Bill Dobbins, Andy Haderer ...
- has recorded more than 20 CDs
Here's a list of musicians Michael Gustorff played and/or recorded with:
Accordion: Heinz Hox, Stefan Langenberg, Henk Kreft, Henny Langeveld, Bart Lelieveld, Hans Sparla , Torsten Stracke , Mirek Tybora, .....
Bass: Pieter Althuis, Gerard Ammerlaan, Guus Bakker, René van Beek, Paul Berner, Nol van Bennekom, Ronald Bonel, Gerard Brohm, Michael Buerger, Eric Calmes, Ralf Cetto, Chang U Choi, Eric Coenen, Edwin Corzilius, George van Deijl, Peter Deinum, Arnold Dooyeweerd, Pieter Douma, Harro Eller, Harry Emmery, Wolfgang Engelbertz, Ton van Erp, Wim Essed, Nono Fernández, Joe Fischer, Lars Froedisch, Luc van Gestel, Marc Giordano, Reinhard Glöder, Arjan Gorter, Hendrik Gosman, Willi Gschwind, Henk Haverhoek, Leen de Heer, Eric Heijnsdijk, Konstantijn van der Heyden, Frans van der Hoeven, Nobert Hotz, Bobby Jacobs, Rico de Jeer, Christoph Kammer, Jan Kazda, Ivan Kovacevic, Peter Kowald, Egon Kracht, Peter Krijnen, Sebastian Kruse, Dieter Kuhlmann, Thom Kwakernaat, Rob Langereis, Hans Lateris, Anton van der Lei, Stefan Lievestro, Ger Lohuis, Wiro Mahieu, Tis Marang, Dieter Manderscheid, Joop de Man, Nick McGuire, Charles Nagtzaam, Dion Nijland (DiMaMi), Frank Noya, Dietmar Osterburg, Ruud Ouwehand, Jens Piezunka, Andrew Read, Bas Rietmeyer, Karel van Rijn, Frans Ronday, Hans Ruigrok, Jacques Schols, Dirk Schreuders, Dan Simon, Nico Stahl, Anton Stukker, Bart Tarenskeen, Branco Teuwen, Andreas Thiessen, Michael Thomas, Eric Timmermans, Frans Tunderman, Jan Voogd (Dig d'Diz), Eric van der Westen, Richard Wallenburg, Martin Wind, Philip Woudenberg, Thom van der Zanden, Bernd Zinsius, .....
Big bands: Big Stuff & Strings Ahead, Cologne String Big Band, Guus Tangelder Big Band, Millenium Jazz Orchestra, Rias Big Band Berlin, Radio Big Band Frankfurt (Hessischer Rundfunk), .....
Composer, Arranger: Gerard Ammerlaan, Michiel Braam, Hazel Leach, Dolf de Kinkelder, Jörg Achim Keller, Ted Nash, Joan Reinders, Jiggs Whigham, .....
Drums, Percussion: Anton Aukes, Klaas Balijon, Pieter Bast, Hans Beun, Dries Bijlsma, Marco Bussi, Michael Claudi, Keith Copeland, Pierre Courbois, John Engels, Truus Engels, Joop van Erven, Arnoud Gerritse, Andy Gillmann, Andre Groen, Egbert van Gruythuizen, Roberto Haliffi, Joerg Hedtmann, Ralph Heinrich, Hans Hoeksema, Florian Hoefnagels, Naning van der Hoop, Rutger Hoorn, Rob Jansen, Daniel Karelly, Heinrich Köbberling, Michael Küttner, Eric Ineke, Lex Lammen, Frits Landesbergen, Lucas van Meerwijk, Ferdi Michels, Foppe Mijnlieff, Marcus Moeller, Etienne Nillesen, Toni Nuesser, Jong-Dae Oh, Hans van Oosterhout, Herman Pardon, Jesse Pourrier, Erik Poorterman, Sietze Pruiksma, Jean-Marc Robin, Ruben van Rompaey, Jean-Clair de Ruwe, Remco van Schaik, Peter Schneider, Ben Schroeder, Ulf Seifert, Rinus Smit, Hendrik Smock, Adriaan Stam, Diethard Stein, Chris Strik, Menno Veenendaal, Pascal Vermeer, Wim de Vries, Kim Weemhoff, Bernhard Weichinger, Peter Ypma, Ed Zimmerman, Henk Zomer , .....
Guitar: Martin Ackermann, Albert Bello, Jaap Berends, Thomas Brill, Bram Bokken, Wim Bronnenberg, Julien Coco, Charles Corstjens, Eberhard Dodt, Peter Dobbe, Richard Doodkorte, Ralf Falk, Adel Faltas, Bert Fastenrath, Lou Frederiks, Ottorino Galli, Ro Gebhardt, Patrick van Gerwen, Domenico Graciano, Paul Hagenaars, Ralph Herrnkind, Johannes Hitschfell, Piet Hoeksma, Rino van Hooidonk, Peter Huying, Pieter Immega, Jan de Jong, Ton Karmiggelt, Onno Kelk, Pieter Kiel, Pieter Klaassen, Wolfgang Koehler, Peter Kowal, Emiel Kuipers, Rene Kuipers, Kees Kuyt, Serge Lazarevich, Andreas J. Leep, Joerg Lehnardt, Bertolf Lentink, John Lighthart, Martin Limberger, Andy Louis, Mario Mammone, Eddy Marron, Rolf Marx, David Mathei, Rudi Mettbach, Schnecko Mettbach, Bruno Mueller, Matthias Muer, Cor Mutsers, Peter Niewerf, Raymond Nijenhuis, Jeen Rabs, Hans Reinhardt, Lulu Reinhardt, Stefan de Ridder, Kai von Rosenberg, Henk van Rossum, Gregor Salz, Micha Schellhaas, Lutz Schlosser, Berry Selles (panhandleswing), Hernan 'Chino' Senra, Frank Sichmann, Henk Sprenger, Alexander Sputh, Raphael Stolarski, Andreas Suntrop, Raymond Surquin, Albert Verbeek, Ed Verhoeff, Hans Voogt, Bojan Vuletic (biyuya ensemble), Holger Weber, Danny Weiss, Kussi Weiss, Volker Wendtland, Rigo Winterstein, Joost Zoeteman, .....
Miscellaneous instruments: Guelabi Demirel (saz), Hermien Deurloo (harmonica), Russel 'Konkie' Halmeyer (steel drums), Hein de Jong (vibraphon), Sean Moyses (banjo), Koos van der Sluis (harmonica), Tom Stuip (banjo), Jan Verweij (harmonica), Buddy Wachter (banjo), .....
Piano, Organ, Keyboards: Rob Agerbeek, Dirk Balthaus, Timothy Banchet, Berend van den Berg, Robert Boden, Buggy Braune, Rob van den Broek, Michiel Borstlap, Nick van den Bos, Leo Bouwmeester, Michiel Braam, Ge Bijvoet, Bert van den Brink, Francesc Capella, Johan Clement, Rob Cornelese, Jean Louis van Dam, Sebastiaan van Delft, Mike Del Ferro, Bill Dobbins, Wolfgang Eichler, John Fields, Hinrich Franck, Peter van Gelderen, Karel Giltay, Dieter Greifenberg, Wiebe Haanstra, Yasmin Hadisubrata, Hans Heinhuis, Clemens Horn, Robert Jelmer, Jean-Yves Jung, Soo-Jung Kae, Bernd Koeppen, Freek Kroon, Hans Kwakernaat, Hans Lammen, Ibo van Leur, Hans Luedemann, Clous van Mechelen, Joan Mijnlieff, Antoinette van Nievelt, Coen van Orsouw, Cees Pouw, Debbie Poryes, Ulrich Rasch, Jan Rath, Jan Reinen, Henk Reijmers, Philipp Rüttgers, Pieter van Santen, Martin Sasse, Dick Schallies, Herman Smit, Willem Stoppelenburg, Carsten Stüwe, Jeroen Sweers, John Taylor, Albert van Veenendaal, Robert Jan Vermeulen, Jeroen van Vliet, Christoph Voelker, Gertjan van der Weerd, Cayan Witmer, Frank Wunsch, .....
Saxophones, Clarinet: Bernadette Bal, Chris Corstens, Frank Deurvorst, Sjoerd Dijkhuizen, Andre Enthoefer, Dick de Graaf, Bo van de Graaf, Frank Gratkowski, Rinus Groeneveld, Arthur Heuwekemeijer, Jelske Hoogervorst, Frits Kaatee, Joerg Kaufmann, Dim Kesber, Oliver Leicht, Clous van Mechelen, Ted Nash, Aad Overeem, Peter Peuker, Stephan Pfeiffer, Ralf Rotkegel, Dimitri Suklov, Guus Tangelder, Robbert Tuinhoff, Niek Ulrich, Dick Vennik, Frans Vermeersen, Tony Vos, Job Zomer, Anne Zwaga, .....
Trombone: Chris Abelen, Kees Adolfsen, Henning Berg, Joost Buis, Jilt Jansma, Joan Reinders, Ilja Reingoud, Michael Rorby, David Rothchild, Hans Sparla, Thomas Wurth, Hendrik Zeno Strubbing, .....
Trumpet: Hein Buying, Sun-Bae Choi, Bert Fransen, Andy Haderer, Sander Hartgers, Herman Hopman, Bert Joris, Saskia Laroo, Sietze de Leeuw, Edu Ninck Blok, Martin Reuthner, Koos van der Sluis, Niels Tausk, Angelo Verploegen, Eric Vloeimans, Martin Zobel, .....
Violin/Viola/Violoncello: Adam Baldych, Byron Berline, Stephan Braun (violoncello), Joerg Brinkmann (violoncello), Chamber Orchestra of Groove, Cologne String Big Band; featuring Ingmar Meissner, Paul Diemer, Julian Hahn, Joon Laukamp, Pauline Moser, Beate Starken, Anneke Frankenberg, Oene van Geel, Ig Henneman, Friedmar Hitzer, Hot Club of St Pauli String Quartet, Christian Howes, Jasper Le Clercq, Howard Kalish, Tanja Kalmanovitch, Anti von Kiewietz, Christoph Koenig, Nicola Kruse, Christoph Mallinger, Edzard Model, Modern String Quartet, Tiny Moore, Antje Vetter, Susanne Paul (violoncello), Mike Rutledge, Oriol Sana, Gunther Tiedemann (violoncello), Heribert Wagner, Leo Weiss, Joerg Widmoser, Andreas Schreiber, Ingmar Süberkrüb, Zapp String Quartet, .....
Vocals: Estrella Acosta, Aniek Brink, Wim van de Burg, Sandra Coelers , Ronald Douglas, Jolanda Geven, Esther Groenenberg, Ulrike Haller, Anna Hoekstra, Simone Honijk, Mathilde van der Horst, Hanneke Jansen, Monic Kersten, Léah Kline, Loeki Knol, Annemarie Maas, Aniek Maren, Miëtt Molnar, Ric de Nijs, Thaisa Olivia, Wilma Pilz, Anna Popma, Jannie Pranger, RT Pau (India), Eva Scholten, Heleen Schuttevaer, Shai Shahar, Lucette Snellenburg, Solvej Borger, Walther Uhling, Ingram Washington, Uli Wewelsiep, Linda Westera, Vera Westera , Colette Wickenhagen, Yvonne Wijers, Astrid Wijn, .....
Others: text: Jules Deelder, pantomime: Rudi Rhode, .....
Photos

Adam Baldych & Michael Gustorff - photo by: Ernst Crebas

'The GUST' featuring Clemens Horn, Jaap Berends & Michael Gustorff

European Sound Connection

with Trio Nuevo Bimhuis, Uitmarkt 2007 - photo by: Anton Helmink

with Trio Nuevo Rotterdam

with Andre Enthoefer & Friends

with Ro Gebhard & Friends

at Cologne Jazz Night with Dieter Manderscheid and Frank Gratkowski
foto by: Horst Helmut Schmeck


with Collectief in India

Dong Ah Concert Korea with Hinrich Franck and Frank Gratkowski

with Danny Weiss Ensemble - photo by: Horst R.Kraft

with BigStuff - foto by: Andreas Enge

with Frans Vermeersen, Jilt Jansma and Joerg Kaufmann

with Dick de Graaf Septet in Montreal

with Dick de Graaf Septet in Toronto

Michael Gustorff Quartet at North Sea Jazz Festival

with John Blake at Visiones in New York

with Panhandle Swing

with Vania Hot Swing Quartet

with Rigo Winterstein Swingtett
CDs
Here is a list of CDs Michael Gustorff plays on.
If you want to buy any or if you want to listen to samples, please contact us.
The GUST:
Gusting Out
A Gust of Music
Trio Nuevo:
Dick de Graaf Septet:
The Burning Of The Midnight Lamp
Heartbeat
Polder
November
Butterfly Blues
Colette Wickenhagen:
Uli Wewelsiep:
Walther Uhling:
Was ist das Leben, wenn du mich nicht liebst
Cor Mutser & Patrik van Gerwen:
If Only We Could Sing
We Are Not Alone
Panhandle Swing:
Play The Hits Of Bob Wills And His Texas Playboys
Featuring The Panhandle Playgirls
European Danzon Orchestra Rompiendo La Rutina:
Mexico Lindo:
Nice Beaver:
Basta Die Band:
Library Music:
Press
rightclick on the picture to download a hi-res version
| | |
| --- | --- |
| photo by Karl Heinz Krauskopf | photo by Bernadette Leijdekkers |
English - Deutsch - Nederlands
English Press Text Michael Gustorff
For more than 20 years, Michael Gustorff (*1958, Leverkusen, Germany) has been one of the leading figures in the European jazz violin scene as a player and as a teacher.
In addition to his own projects ('Michael Gustorff Quartet' & 'The GUST') he has played with 'Trio Nuevo', the 'Dick de Graaf Septet' and many other instrumentalists and singers.
As a guest soloist he performed with the radio big bands, such as the Rias Big Band Berlin, the Hessischer Rundfunk Big Band Frankfurt and the Millenium Jazz Orchestra.
He has played many jazz festivals, concert halls and clubs in Ireland, Norway, Finland, Latvia, Lithuania, Germany, The Netherlands, Austria, Switzerland, France, Spain, Canada, India, Korea, and Vietnam.
Michael Gustorff recorded more than 20 cds.
The press about Michael Gustorff:
Deccan Herald
When he plays the violin, everybody present gets drawn into the rhythm of the master .... by including jazz and other forms of improvised music with the violin, Gustorff is broadening the horizon for the classical instrument and taking it to a whole new level.
The New Sunday Express
.... a sterling performance .... gave the audience an object lesson in what jazz is all about.
The Hindu
Michael Gustorff plays his violin like a horn, with delightfully refreshing solos.
All Music Guide
.... rapturous strains of the violin….special guest violinist Michael Gustorff, international professional - gave a performance to remember.
Bangalore Times
The virtuoso solos of jazz-violinist Michael Gustorff were outstanding throughout the evening.
Westfälische Allgemeine Zeitung
The obvious technical facility remained subservient to the demands of musicality.
Arnhemse Courant
The violin solo with its beautiful long phrases and fast sixteenth notes was one of the best solos of the evening. Gustorff has a strong full tone.
Jazz Freak
Michael Gustorff played modern jazz without any clichés. Although many violinists tend to play endless lines, he took breaths just at the right moments, as if his violin were a horn.
Amersfoorste Courant
.... amazing debut by the Michael Gustorff Quartet .... the concert went like a dream, with inspired playing .... with obvious enjoyment .... colorful solos .... well-focused intensity of Michael Gustorff's playing ....
Gelderlander
English - Deutsch - Nederlands
Deutscher Pressetext Michael Gustorff
Michael Gustorff zählt mittlerweile zu den wichtigsten Jazzgeigern Europas. Als musikalischer Weltenbürger, Lehrer, Buchautor und nicht zuletzt konzertierender Künstler tourte er durch Kanada, Indien, Korea und ganz Europa. Er war zu Gast bei zahlreichen Jazzfestivals (Montreal, Toronto, Vancouver, North Sea Jazz Festival, Deutsches Jazz Festival Frankfurt, Leverkusener Jazztage, Dublin, Imatra...) und wirkte auf mehr als 20 CDs mit.
Den Superlativen der Pressestimmen ist nichts hinzuzufügen: .... mitreißend, virtuos, inspiriert.... umwerfende Performance..... eine Lektion über alles, was Jazz ausmacht.... Gustorff erweitert die Grenzen des Instruments und hebt es auf ein neues Niveau...
Pressestimmen zu Michael Gustorff
.... mitreißend und virtuos ....
Deccan Herald
Wenn Gustorff Violine spielt, wird jeder von seinem Rhythmus mitgerissen .... indem er Jazz und andere Formen improvisierter Musik auf die Violine überträgt, erweitert Gustorff die Grenzen dieses klassischen Instrumentes und hebt es auf ein neues Niveau.
The New Sunday Express
Michael Gustorff spielt seine Violine wie ein Saxophon, mit wunderbar erfrischenden Soli.
All Music Guide
.... eine umwerfende Performance .... erteilte dem Publikum eine Lektion darin, was Jazzmusik ausmacht.
The Hindu
.... begeisternde Melodielinien der Violine….'special guest' Michael Gustorff, international bekannter Profi - gab eine bemerkenswerte Vorstellung.
Bangalore Times
Die virtuosen Soli des Jazzgeigers Michael Gustorff waren den ganzen Abend herausragend.
Westfälische Allgemeine Zeitung
Die offensichtlich große technische Beherrschung stand jederzeit im Dienste der Musik.
Arnhemse Courant
Jazzgeiger Michael Gustorff stahl die Herzen des Publikums. .... Michael Gustorff bewies, dass er sein Instrument beherrscht .... musikalisch sensibel und zugleich passioniert ....
Leusder Krant
Gustorff erntete immer wieder besonders großen Szenenapplaus.
Westfälische Zeitung
Michael Gustorff, Profi-Violinist, der sich der Jazz-Violine verschrieben hat, zeigte den Abend über immer wieder seine virtuosen Soli.
Westdeutsche Allgemeine Zeitung
Der Violinist glänzte hier im Zusammenspiel .... differenzierte Soli ....
Wuppertaler Generalanzeiger
English - Deutsch - Nederlands
Nederlands Perstekst Michael Gustorff
Michael Gustorff behoort inmiddels tot de absolute top van de Europese jazzviolisten, als uitvoerend kunstenaar en als leraar.
Naast zijn eigen projecten (Michael Gustorff Quartet & The GUST) heeft hij een naam opgebouwd als 'sideman' van o.a. het 'Dick de Graaf Septet' en 'Trio Nuevo'.
Als gastsolist speelde hij met de radio bigbands in Berlijn en Frankfurt, het Millenium Jazz Orchestra... en werkte samen met musici als Ted Nash, Jiggs Whigham, John Taylor, John Engels...
Hij trad op veel jazz festivals in Europa (North Sea Jazz Festival, Deutsches Jazz Festival Frankfurt, Leverkusener Jazztage, Dublin, Imatra), Canada (Montreal, Toronto, Vancouver...), India, Korea en Vietnam op.
Michael Gustorff is te horen op meer dan 20 CD's
De pers over Michael Gustorff
…als hij de viool bespeelt wordt iedereen meegesleept door het ritme van deze virtuoos….door jazz en andere vormen van geïmproviseerde muziek te integreren verlegt Gustorff de grenzen van dit klassieke instrument en brengt het op een geheel nieuw niveau.
The New Sunday Express
….een gedegen performance…. gaf het publiek een les in wat jazzmuziek inhoudt.
The Hindu
... fascinerende melodielijnen van de viool…. special guest violist Michael Gustorff, internationaal professional – gaf een voorstelling die je bijblijft.
Bangalore Times
De virtuoze solos van Michael Gustorff waren boeiend over de hele avond heen.
Westfälische Allgemeine Zeitung
Michael Gustorff speeld zijn viool als een saxofoon….zeer verfrissende solos.
All Music Guide
Michael Gustorff Kwartet .....zeer swingend.....indrukwekkende set, waarbij bewondering voor het groepswerk hand in hand ging met respect voor de individuele kwaliteiten….vakwerk, waarbij de grote technische kwaliteiten steeds in dienst van de muzikaliteit bleven staan.
Arnhemse Courant
Michael beheerst zijn moeilijk instrument volledig dankzij een gedegen conservatorium opleiding en een combinatie van muzikaliteit, goede smaak en originaliteit. Nergens probeert hij zijn grote voorgangers als Stephane Grapelli, Joe Venuti of Stuff Smith te imiteren.
Leusder Krant
....De vioolsolo was met zijn fraaie lijnen afgewisseld met snelle zestienden was een van de geslaagdste van de avond. Gustorff heeft een sterke, volle toon.
Jazzfreak
Gustorff fraseert als een sax.
Jazz Nu
Michael Gustorff speelde kitschvrije moderne jazz zonder clichés. Terwijl veel violisten op de automatische piloot matenlang doorfiedelen, laste hij op de juiste momenten adempauzes in, als ware zijn viool een besnaard blaasinstrument.
Amersfoortse Courant
De improvisaties van Gustorff zijn zonder meer top.
Heaven
Bookings